Listed as an exceptional heritage site in Wallonia, the Cistercian Abbey of Villers-la-Ville has been remarkably well preserved since the 12th century! Let this enchanting place impress you and listen to what the old stones have to tell you.
In a green setting in the heart of Walloon Brabant, discover its new reception area and shop offering a wide choice of local products, its interpretation centre and its new visitor trail. Enjoy a 180° panoramic view over the entire Abbey.
Immerse yourself in the past thanks to Slate, the interactive augmented reality tablet! At each of the 20 stations along your route, you will have access to various scripted multimedia content. Augmented reality brings architectural elements and people who have since disappeared back to life.
You can also admire the beauty of its five gardens in very different styles. The Medieval-inspired Jardin des Simples and the Monks' Garden present the medicinal plants of yesterday and today. The Pharmacy Garden and the Abbot's Garden are two ornamental gardens. The Scent Garden includes a new space along the path dotted with fragrant flower beds: a Meditation Path. Eight beds line the path and invite you to explore an attitude of mindfulness: non-judgement, patience, the beginner's spirit, trust, acceptance, gratitude, generosity and benevolence.
Not accessible to persons with reduced mobility.
For more information
Mindfulness meditation invites you to take a pause to observe and feel what is happening in and around you.
Jardin de l'Abbaye de Villers-la-Ville
The Abbey of Villers-la-Ville, it's also…
The Abbey has also set up a hop farm, historically present on the site, and an apiary inside the site.
They are for teaching purposes.
You can also visit the microbrewery and taste the beers made there.
It is open every other Saturday from March to November at 2:30 pm and 4 pm or by appointment.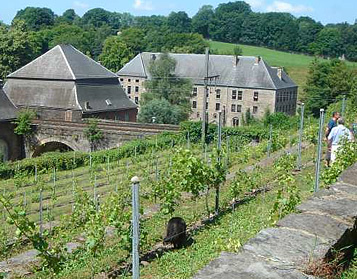 Take a guided tour through the vineyard at 2:30 pm on the first Saturday of the month from April to September and finish with a tasting session.
The Abbey of Villers-la-Ville is also a new cultural centre rich in events.
Discover them in our diary.
Don't miss the Night of the Circus, the open-air summer show, and the Night of the Choirs, as well as the many guided tours, exhibitions and walks organised at the Abbey!
Practical information
Villers-la-Ville Abbey
Rue de l'Abbaye, 55
1495 Villers-la-Ville
Tel. +3271880980
www.instagram.com/abbayedevillers
Accessible People with limited mobility



Opening
From 01/04 to 31/10: 10 am - 6 pm
From 01/11 to 31/03: 10 am - 5 pm
Closed on 24, 25 and 31/12 and on 01/01.
In case of strong winds (from 80 km / h), the site may be exceptionally closed to the public.
Dogs admitted
Prices
Adult: €9 / Adult group: €8
Student, senior: €7 / Group seniors, students: €6
Child (6-12 years): €4 / Children's group: €3.50
Child (<6 years), disabled people, teacher, Friends of the Abbey: free
Subscriptions: Unlimited access to the Abbey (excluding events) for 1 year
- Personal pass: €15
- Family pass: €30
Whether with family, friends or alone, (re)visit the Abbey of Villers-la-Ville, its architecture, history, gardens and animals!
A change of scenery, relaxation, rejuvenation and spirituality guaranteed!