Martin's Cycle Tour is a 444km cycling route (7 days and 8 nights) between a number of hotels of the Martin's group. This itinerary takes you to the main heritage sites of Walloon Brabant and its surroundings. 
Enjoy a unique "slow tourism" experience!
The Martin's group has developed a unique offer for cyclists. Martin's Cycle Tour is a 7-day (8-night) cycling trip between Martin's Hotels in Brussels, Walloon Brabant, Flemish Brabant and Antwerp Province. You can enjoy relaxing in hotels prepared to host cycling tourists. Each leg is between 51 and 68km. You can choose which hotel to start your trip from but if you are coming by car we recommend following the suggested order. The hotel group can of course transport your luggage between the stops. You can also choose to only do a few legs and return to your starting point by train. 
Martin's group provides the whole detailed itinerary as well as GPX trackers for each leg. Enjoy!
Let's begin our route from Martin's Red in Tubize, where you can easily park your car in the hotels' secure car park. Your destination is Martin's Grand Hotel or Martin's Waterloo. 
Head to Ronquières to admire its impressive inclined plane. As you ride along the old canal, you will come to the Château of Seneffe, an 18th-century gem of neo-classical architecture. Then you will take part of the RAVeL line via Nivelles before heading back up to Waterloo. Take the opportunity to visit the historic site of the Battle of Waterloo. 
Mont-Saint-Jean Farm and the Wellington Museum
Less than 2km from the Lion's Mound you will find Mont-Saint-Jean's Farm. As well as its British hospital museum, you will also find a micro-brewery and micro-distillery. 
Visit the Wellington Museum in the centre of Waterloo which served as the Duke of Wellington's headquarters during the battle. This is where he stayed on the nights of 17 and 18 June 1815.
Waterloo 1815 Memorial
Start your visit at the Memorial Museum for a multi-sensory experience that is unique in Europe. Find yourself immersed in one of the most turbulent periods in our History! Then continue on to the Lion's Mound with a unique view over the battlefield, after climbing the 226 steps. Next you need to see the Panorama. This is a huge fresco, 112 metres in circumference, painted in 1912 by the French artist Louis Dumoulin. Finish off at Hougoumont Farm, the last remaining authentic testimony to the battle as this is the best preserved monument in terms of how it looked the day after the battle.
Set off on leg 2 of the route towards Martin's Château du Lac in Genval for a day enjoying culture and wine! 
This 227-hectare estate is home to Solvay Castle and the Folon Foundation with over 500 works of art on display by the Belgian artist Jean-Michel Folon.
You will leave Waterloo to reach Solvay Regional Estate in La Hulpe, one of the most beautiful spots for a walk in Belgium. 
Then continue on your route via Aywiers Abbey and Villers-la-Ville abbey, a wonderfully preserved 12th-century Cistercian abbey. Also check out the Villers Abbey micro-brewery and Villers-la-Vigne, the vineyard next to the site.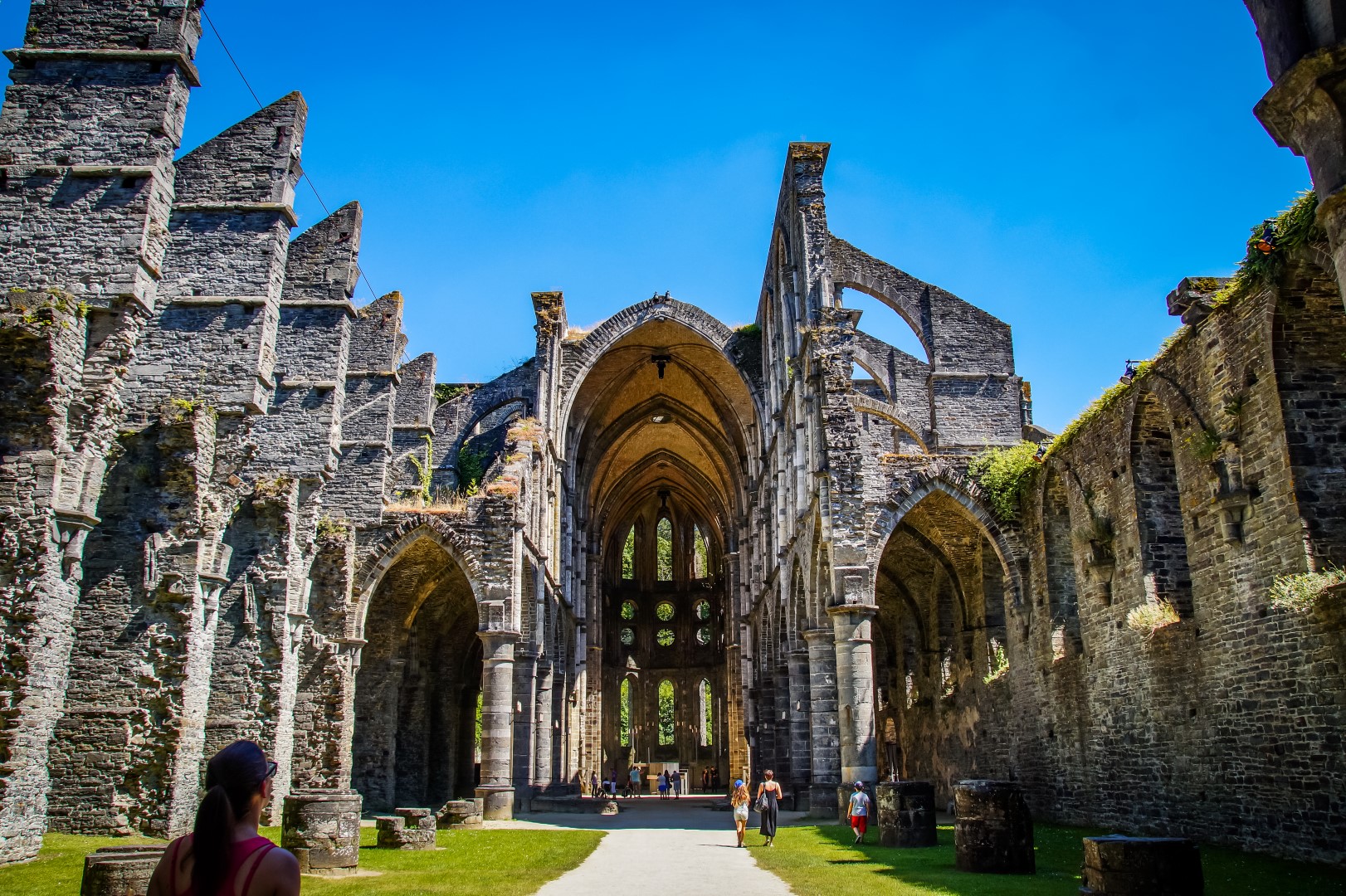 Genval Lake
In a romantic setting, this artificial lake is perfect for some relaxation or fun activities on the water.
Château de Bousval Vineyard and
Castle of the Princes de Mérode
Your itinerary will take you by another Walloon Brabant vineyard in Bousval as well as Château de Rixensart.
From Genval to
Louvain-la-Neuve
Back in the saddle towards Martin's Louvain-la-Neuve or All Suites!
Your day's itinerary will take you to Ottignies, Court St-Etienne and Walhain, a village famous for being the geographic centre of Belgium, before reaching Louvain-la-Neuve, Belgium's newest town. There are two important museums you can visit here: the Hergé Museum, devoted to the creator of Tintin and Snowy and Museum L, the region's biggest university museum with over 1,500 artefacts.
From
Louvain-la-Neuve

to Leuven
Along your way to Martin's Klooster in Leuven, you will cross through Lauzelle Forest, part of the Natura 2000 network, and Beumont Forest where you will find Wavre Adventure Park. This park features 24 treetop routes and more than 240 games to play in the trees! There are numerous zip lines and many different types of jumps to try. 
You can then discover some architectural gems as you cycle through Flemish Brabant! You will reach the historic town of Leuven (Louvain) via Heverlee Forest and the splendid Park Abbey! Do not miss the Small and Grand Beguinage and Botanical Garden of Leuven.
Louvain university was founded in 1425 in Flemish Brabant. In the 20th century divisions became apparent in the student population between Flemish and Francophones. The presence of francophone students and teachers became more and more contested culminating in demonstrations in 1968 with chants of "Walen Buiten" (Walloons out). The francophone faculties of UCL therefore moved to Ottignies-Louvain-la-Neuve and created a new town there in 1971.
The tour continues in Flanders towards Martin's Patershof in Mechelen, famous for being set in a former church.
Did you know that the brewers had a canal dug to take the barrels of beer from Louvain to other towns? This leg will mainly take you along the Dyle. Discover the local breweries as well as the provincial estates of Kessel-Lo and Nekker and Planckendael zoo. 
From Mechelen to
Brussels
En route to the capital of Europe, to stay at Martin's Brussels EU!
The day's itinerary will take you via Grimbergen Abbey, Meise Botanical Garden and Bouchout Castle into the city of Brussels where you can take a break at the foot of the Atomium and on the Grand Place de Bruxelles as you ride along the canal. You will reach the hotel via the Sablon district, the royal palace, Cinquantenaire Park and the European district.
We are now on the final leg of the route before arriving at Martin's Red in Tubize along the canal. Part of your day will be spent in forests: the Bois de la Cambre, the Sonian Forest and the Bois des Bruyères in Waterloo. You will also cycle across the Pajottenland region in Flemish Brabant, the land of beer, Lambic and Gueuze, where you can visit three breweries. You will also pass by the provincial estate of Huizingen and Beersel Castle. 
Martin's Red Tubize
Martin's Red
Rue de Bruxelles 484
1480 Tubize
Martin's Grand Hôtel
Martin's Grand Hôtel
Chaussée de Tervuren 198
1410 Waterloo
Martin's Château du Lac
Martin's Château du Lac
Avenue du Lac 87
1332 Rixensart
Martin's Louvain-la-Neuve
Martin's Louvain-la-Neuve
Rue de l'Hocaille 1
1348 Ottignies-Louvain-la-Neuve
Martin's Klooster
Martin's Klooster
O.L.Vrouwstraat 18
3000 Leuven
Martin's Patershof
Martin's Patershof
Karmelietenstraat 4
2800 Mechelen
Martin's Brussels EU
Martin's Brussels EU
Bouevard Charlemagne 80
1000 Bruxelles