In the heart of Walloon Brabant, 4 km from the Lion's Mound, you will be surprised by the Wellington Museum, the former headquarters of the Duke of Wellington, future Prince of Waterloo.
He stayed there on the nights of 17 and 18 June 1815.
The Duke of Wellington's Headquarters
The Wellington Museum is located in the former Bodenghien Inn in the centre of Waterloo. In 1815, the British General Staff chose to set up their headquarters there. The Duke of Wellington stayed there on the nights of 17 and 18 June 1815. Through the weapons, engravings and authentic memorabilia displayed in the 14 rooms of the museum, you can learn more about the events of the famous battle in June 1815 between the French Army, led by Napoleon, and the Allied Army, led by Wellington.
Among the objects displayed in the museum, a table from the period perpetuates the memory of the Battle of Waterloo. This is the table on which the Duke of Wellington himself wrote his victory communiqué to the English government. The Battle of Waterloo is named after the location indicated by the Duke in this communiqué.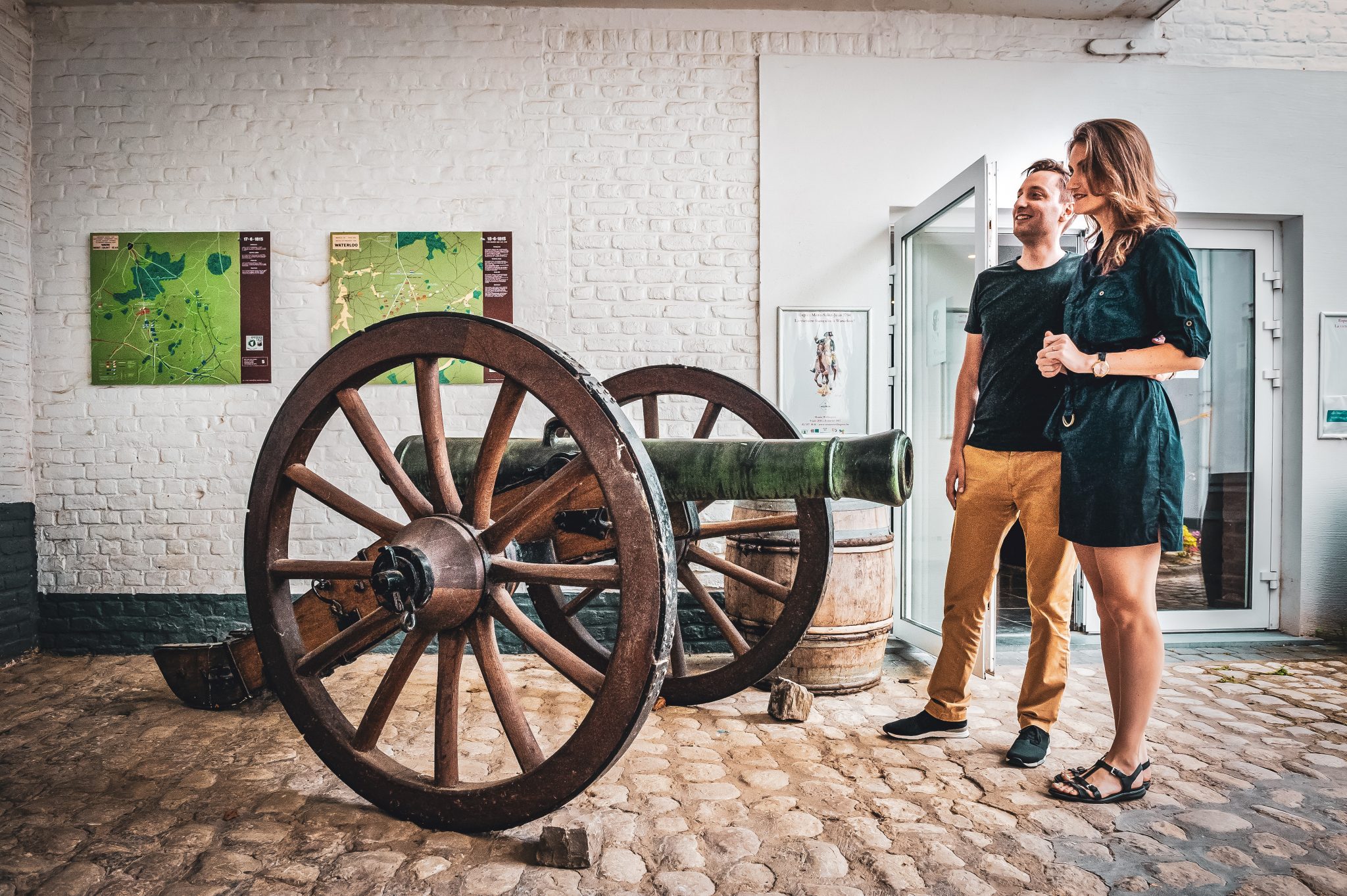 Arthur Wesley, later Wellesley, was born in Ireland on 1 May 1769. It was not until after Napoleon's abdication that he received the title of Duke of Wellington. This general was never defeated. Representing Great Britain at the Congress of Vienna, victorious at Waterloo, General-in-Chief of the European occupying troops in France, Wellington ended his military career in 1818 and devoted himself to his country's politics. He was Prime Minister several times.
Did you know?
At the end of the fighting, Lord Uxbridge, an officer commanding the Allied Cavalry, was shot in the knee. His leg was amputated and then buried in the garden and the place has become an unmissable stopping point for all 'pilgrims'.
The Wellington Museum, it's also…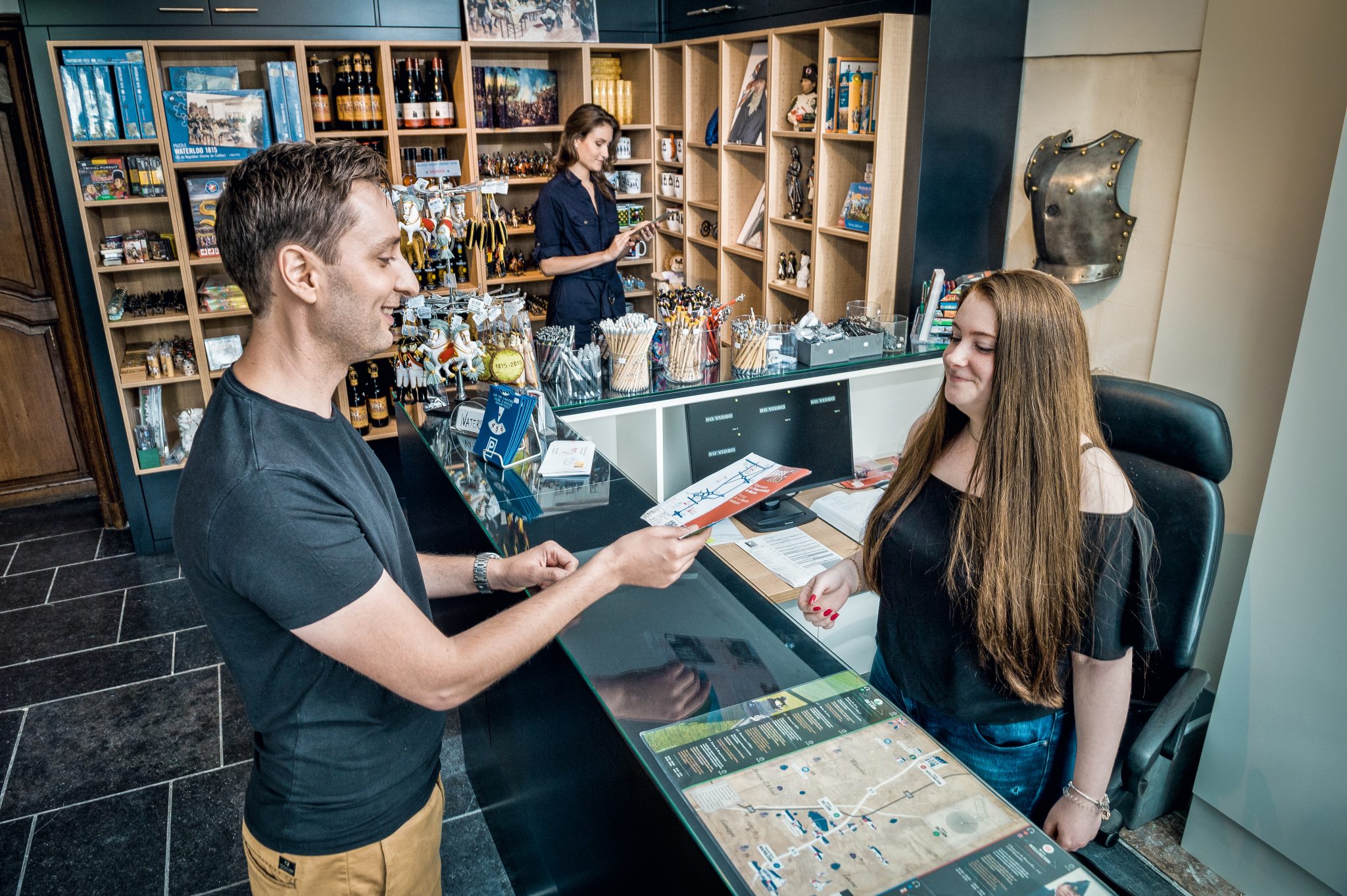 There is a souvenir shop in the reception area of the Wellington Museum.
The Wellington Museum also offers themed guided tours for groups, arranged by the 1815 Guides.
Probably one of the strangest objects in the Wellington Museum collections is Lord Uxbridge's prosthetic leg.
Practical information
Wellington Museum
Chaussée de Bruxelles, 147
1410 Waterloo
Tel. +3223572860
Visit language : German, English, French, Italian, Dutch, Espagnol

Opening
From 01/04 to 30/09: from 9.30 am to 6 pm
From 01/10 to 31/03: from 10 am to 5 pm.
24/12 and 31/12: closing at 1.30 pm.
Closed on 01/01 and 25/12.
Prices
Adults: €7.5 / with a group: €5.5 (min 20 people)
Children (> 10 years old), students, seniors (60+): €6.5 / with a group: €4.5
Children <10 years: free
Pass 1815: Access the 6 attractions of the Battlefield of Waterloo at a very attractive price: Waterloo 1815 Memorial, Wellington Museum and Napoleon's Last HQ.
Adult: €23 / Student, senior: €22 / Child (10-17 years): €14 / Child <10 years: free (excluding entertainment).
Nothing, except a defeat, is as melancholy as a victory.
The Duke of Wellington